Is now available Invoice Maker Pro come with the following upgrades to Invoice Maker
Full Reporting of VAT/GST/Local Tax and CIS
Easily add Purchase Order Numbers / client references.
Quantities and item cost auto calculations
Variable local tax rates - can change the tax caption from VAT to whatever your local sales tax is called
Every caption on the invoice can be edited into your preferred language or to contain extra info such as registration numbers.
Support for UK CIS scheme
Showing and hiding TAX, CIS and item code columns
Free form text area for adding payment terms or "thank you" messages.
Keeping records with the new Client Notes area
Produces Credit Notes as easily as Invoices
Produces Quotations quickly and easily
Drag and drop items onto the invoice layout for fast invoice creation..
Just enter the details for your invoice as below. All the calculations for VAT / TAX and CIS are done for you.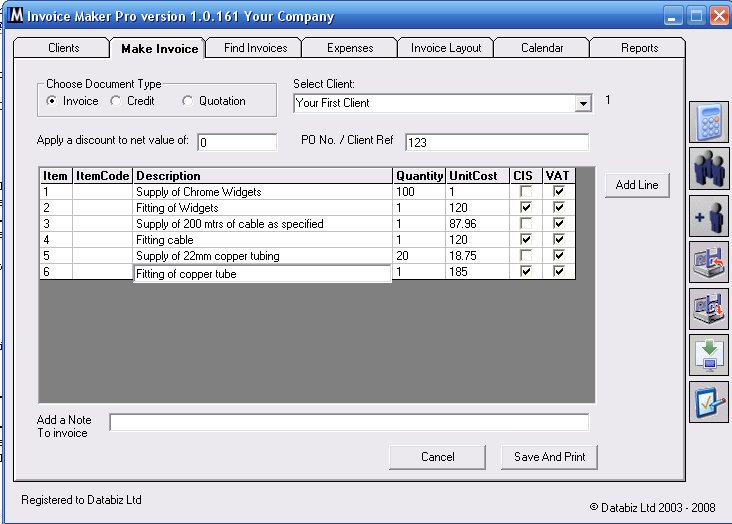 Click print and this is what you get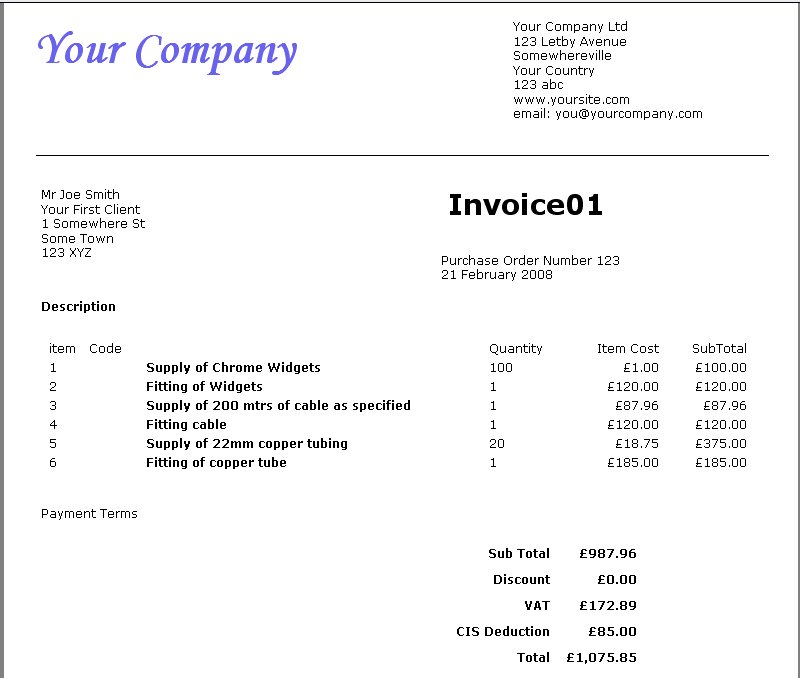 Key Benefits:
VAT can be excluded or added to individual invoice lines, ideal for items such as food, books or childrens clothes Where VAT is zero rated.
Automatically applies CIS deductions prior to VAT calculations making it ideal for anyone involved in the UK CIS scheme (The tax system for the UK construction industry). Can be unchecked for the supply of materials and applied to labour items only.
Should the VAT rate vary you can change the rate applied for new invoices while the system remembers the old VAT rate for previous invoices. You can also change the caption of the sales tax applied to your invoices from VAT (default for the UK) to whatever your local sales tax is. For example GST, Sales Tax etc.
Like Invoice Maker VAT can be permanently turned off and with Invoice Maker Pro you can also permanently turn off the CIS check boxes. Therefore making a cleaner easier to use system customised to your requirements.
Easy custom layout for your invoices: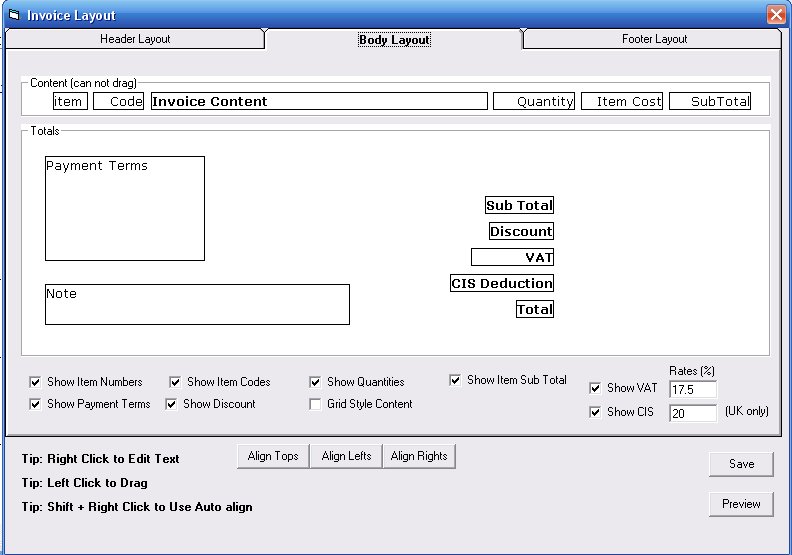 Click here to a demo version